New Yorkers, it's been a long, hot, sweaty summer here in Gotham, and we're willing to bet that even if you've been Hamptoning it all summer long, you'd still benefit from an upstate cool-down.
Fortunately for you, September brings with it the beginning of peak Hudson Valley travel season. From a late-summer lakeside retreat to the autumnal heaven of the Catskills in October, with summer crowds on the wane, this is truly the best time to flee upstate and unwind. The good folks over at Departures have curated a fine list of the nearby Hudson Valley's most choice offerings. We're sharing a few of our favorites, but no doubt you'll find your own, too.
Book a luxe stay at Glenmere Mansion
From Departures: Situated in the lower Hudson Valley, in the petite town of Sugar Loaf, Glenmere Mansion is an Italianate villa with aristocratic gardens designed by Edith Wharton's niece. While the hotel's opulent decor is reminiscent of bygone eras, there is nothing archaic about the newly renovated spa, which offers 8,000 square feet of indulgences. Choose from an extensive list of facials and massages, including the skin-soothing Chardonnay Body Treatment ($165), or experience a traditional Turkish Hamman treatment. The toxin-purging, 2½-hour Journey to Shambhala ($440) experience might actually trick you into believing you've achieved enlightenment.
Distance from New York City: 1 hour; From $750; 634 Pine Hill Rd., Chester, NY​; 845-469-1900; glenmeremansion.com.
Commune with art and nature at Storm King
From Departures: The thought of more than 100 sculptures spread over 500 acres might sound at first like a slog, but the world-renowned outdoor sculpture center Storm King is laid out with great care. The stately progression lets you truly appreciate the monumental works on display by artists like Mark di Suvero, David Smith and Henry Moore. As fall approaches and creates a striking vista at every turn, there's no better place to see how the Hudson Valley seamlessly marries nature and culture. 1 Museum Rd.; 845-534-3115; stormking.org.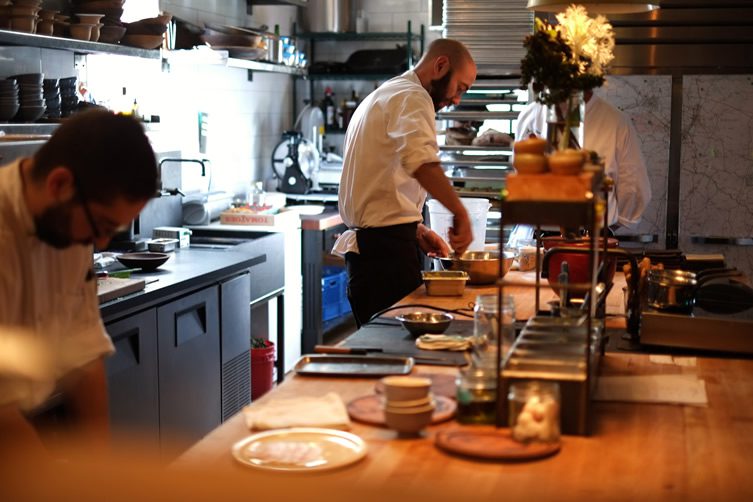 Eat like a [highly refined] woodsman at Fish and Game
From Departures: Zak Pelaccio's locally focused restaurant Fish and Game (13 S 3rd St., Hudson; (518) 822-1500; fishandgamehudson.com) might be worth the trip to Hudson alone. With à la carte menu items like wood oven-roasted chicken and foraged black trumpet mushrooms with rabbit mousse, multi-course regular and vegetarian tasting menus, and a breakfast salon during the summer season (weekends, 11am–3pm), you'll want to make time for a stop here on your visit. It's popular, so make a reservation. 13 S 3rd St.; (518) 822-1500; fishandgamehudson.com
Now go read the whole list, and get thee noarthward ASAP!